CoVID-19 and Tree Tagging
We want to make sure that your tree selection and harvesting is an enjoyable experience. We also want to make sure that you stay healthy, and that everybody visiting our farm will stay healthy, too.
Some changes from previous years related to public health are:
If there is more than one group present on the farm, then please stay together with your family group.
Please stay at least six feet away from other customer groups.
Wear a mask when you are interacting with farm staff.
The Board of Health has directed that dogs NOT be allowed on the farm. We am sorry for this, because we like meeting your dogs. However, dogs do not understand social distancing requirements!
Our sales office will not be open, as it is an interior space. Our items for sale will be placed on a table outside of the sales office.
We can still help place trees on top of vehicles, but farm staff can no longer enter the interior cabin of your vehicle to pass rope through that space. We will charge $5 for sturdy cord to secure your tree, if you do not bring your own.
The fun of having customer volunteers carry big trees and lift them onto vehicles will have to return another year. We have a new tree hoist to lift large trees onto vehicles.
We are providing opportunities for families to take their time before the rush, to choose their tree, tag it, and then come back on the date you have chosen to harvest the tree. By spreading out the selection process over a longer period, we hope to avoid crowding on our farm.
How tagging works: Our farm has 92 rows of trees. Each row has a metal tag at each end identifying the row. From the center aisle of the farm, count the number of trees to find the position of the tree you wish to tag. We will provide a tag, clipboard, and pencil.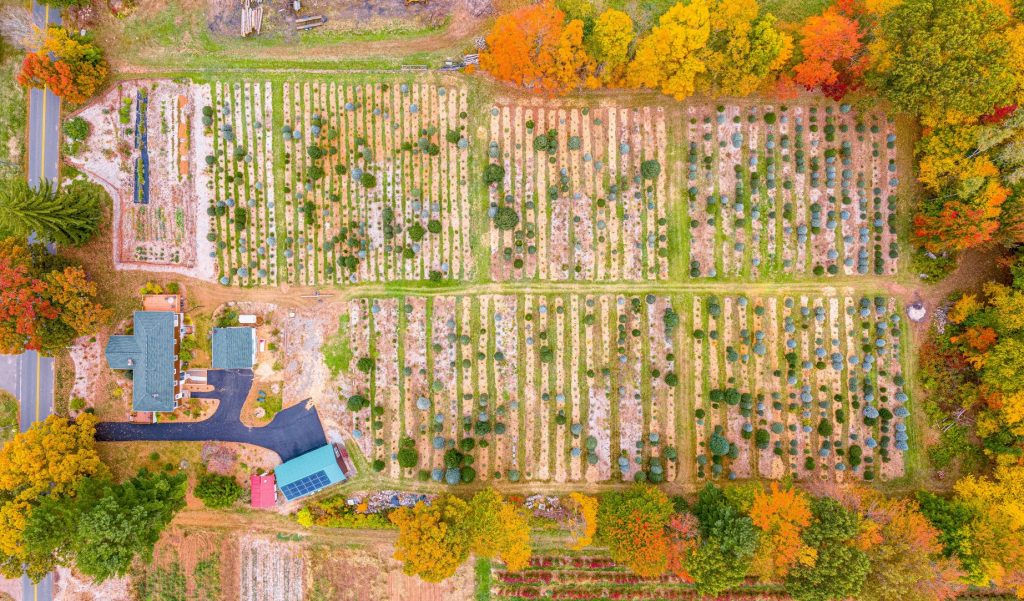 You will write the row and position of your tree, your name, phone number, and the date that you expect to return to harvest the tree. Attach the tag at chest height on your tree, on the side facing our house. A tear-off receipt will have the row and position number of the tree, and a reminder of the date that you have promised to harvest the tree. If the tree is not harvested by the end of the specified day, farm staff will call you, and then remove the tag if you are not going to return for that tree.
Here is what the tags look like: