Humming Grove Farm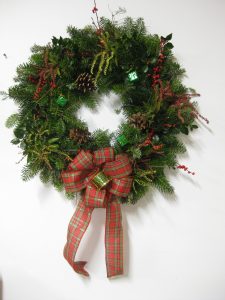 Welcome to Humming Grove Farm
Christmas trees, premium wreaths, honey, beeswax candles, fruits, vegetables, and gourmet mushrooms
Now CLOSED.
We had another spectacular Christmas tree sales season!   I would like to thank all of our customers, who made selling Christmas trees a wonderful experience, and hope that you will return in 2022. 
Because we had so many trees harvested in 2020, we decided to close early this year (at the end of the sales day on November 28).   
We sell choose-and-cut and a limited number of pre-cut Christmas trees, wreaths, handmade ornaments,  beeswax candles, and gourmet Connecticut honey.
Species we grow are white spruce, balsam fir, Fraser fir, Colorado blue spruce, and concolor fir.  There are many other species growing that won't be ready for harvest for 2 – 3 years.  We probably have a greater variety of species than any other Christmas tree farm in New England.  Visit the farm to learn about these other unusual trees.
Our price is $60 for trees (starting in 2022).  Table-top sized trees are $10 per foot of height.  We are proud that some of our big trees have been prominently displayed: in 2019 one at Mystic Aquarium, and several times at the Knights of Columbus headquarters in New Haven.  Due to the demand, we no longer have large trees to sell.
We do have saws, but will gladly cut your tree for you!
Hours:
Tagging starts on weekends after Halloween.  Tree harvest starts the Friday after Thanksgiving.  We have a great tagging system that allows customers to tag trees the year before the tree is harvested!
Tree harvest November through December 12: Fridays and Saturdays 9 a.m. – 4 p.m., Sundays 1 – 4 p.m.