Humming Grove Farm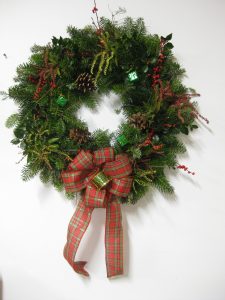 Welcome to Humming Grove Farm
Christmas trees, premium wreaths, honey, beeswax candles, fruits, vegetables, and gourmet mushrooms.
We are now CLOSED for the 2022 season if you have not already tagged your tree. For more information on how you can tag your tree for next year, please see Tree Tagging. See you in 2023!
We sell choose-and-cut Christmas trees, wreaths, beeswax candles, and gourmet Connecticut honey.
Species we grow are white spruce, balsam fir, Fraser fir, Colorado blue spruce, and concolor fir.  Other up-and-coming species starting sale in 2023 are Korean fir, Korean x corkbark fir, white pine, and Austrian pine.  Other species that will take a few more years are Turkish fir, silver fir, and balsam x Veitch fir.  We may have a greater variety of species than any other Christmas tree farm in New England.  Visit the farm to learn about these other unusual trees.
Our price is $60 for full-sized trees.  Table-top sized trees are $50.  The reason there isn't a larger price break is that well-formed small trees can take as long to grow as the larger trees.  We are proud that some of our big trees have been prominently displayed: in 2019 one at Mystic Aquarium, and several times at the Knights of Columbus headquarters in New Haven.  Due to having sold them, we no longer have large trees to sell.
We do have saws, but will gladly cut your tree for you!  If you bring your own chain saw, you are not allowed to use it on our farm until after Rich does a safety check on your equipment. 
We can bale many trees.  Trees that are too fat to fit through the baler can be baled by hand.  That requires "audience participation" because it requires 2 – 3 people to help roll the tree and feed the twine to the baling crew.  
We can help place trees on top of vehicles, but you may help by passing rope through the interior cabin of your vehicle. We charge $5 for sturdy cord to secure your tree, if you do not bring your own.
Hours:
Tagging starts on weekends after Halloween.  We will also be open on Veterans' Day, Friday Nov. 11, to tag trees.  We have a great tagging system that allows customers to tag trees the year before the tree is harvested!
Tree harvest starts the Friday after Thanksgiving; unlike previous years, the only Friday we will be open for tree harvest is the Friday after Thanksgiving, November 25.  Otherwise, we are open Saturdays 9 a.m. – 4 p.m., and Sundays 1:30 – 4 p.m.